Murdick's Famous Fudge Family
Taste the difference!
Who would have thought that 130+ years later, Murdick family members would still be making fudge in the Mackinac Straits area?
Many fudge stores have tried to imitate the Murdick's perfected process, but there are none that can make it as creamy smooth as the Murdick family members.  You really owe it to yourself to try this fudge and compare it to others — you WILL taste the difference! 
There is much confusion for customers believing that Murdick's Fudge shops are a franchise. Sadly, several area businesses operate under the Murdick's family name, however, they have no family ties or affiliations.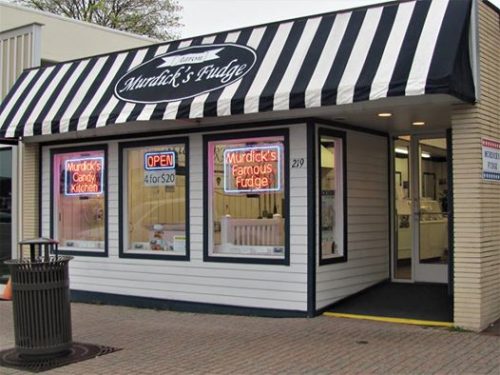 The only stores that are original Murdick family members, who carry on the tradition of using our family recipes and expert techniques are: Murdicks Famous Fudge, 219 E. Central Ave, Mackinaw City (owned and operated by John and Aaron Murdick; Doug Murdick's Fudge, Traverse City (owned and operated by his son, Dale); Celeste Murdick's Fudge & Candy Kitchen, Charlevoix (owned and operated by Celeste – 4th generation whose great-grandfather was Newton Jerome Murdick)
Historic Timeline
In 1887, the Murdick family began the very first fudge store on Mackinac Island (now sold out of the family)– the same year that the Grand Hotel opened. 
Henry and Newton Jerome (Rome) Murdick opened the first fudge store in Michigan calling it  Murdick's Candy Kitchen. Father and son were boat builders and sail makers, and were commissioned to make the awnings for the newly built Grand Hotel. They were savvy enough to see that tourism was going to boom on Mackinac Island in the future. Murdick's Famous® was federally registered as a trademark in 1965 in connection with the Murdick family fudge recipes, and has remained a family trademark since.
In 1954 — Gould Murdick and Jerald Murdick bequeathed the Mackinac Island store to Jerome, and opened their own fudge shop in Charlevoix, Michigan, using the trademarked name: Murdick's Famous Fudge®. Jerald Murdick had a son, Francis Murdick, and by another marriage, two other offspring (Gary and Jeryl Murdick). Francis, the oldest son, became partners with Jerald after Gould Murdick retired. Francis Murdick and his father, Jerald Murdick, went to fairs and shows in Michigan (Michigan State Fair, Allegan County Fair, etc.) making and promoting Murdick's Famous Fudge.
All of the Murdick children learned to make fudge and work in the Charlevoix store. John Murdick, Fran's son,  Gary Murdick and Jeryl Murdick all worked with Fran and Jerald to help make candy.
1964 — Jerome's son, Doug, opened his own store, Doug Murdick's Fudge, in Traverse City. Now his son, Dale Murdick, operates the Traverse City stores.
1969 — Jerome Murdick retired and  sold the store on Mackinac Island to Bob Benser, the fellow who owned the local Tastee Freeze.  Benser eventually changed the name to: Original Murdick's Fudge.
1976 –Francis Murdick left the Charlevoix store to his half-brother and half-sister, Gary and Jeryl Murdick. Francis opened the Petoskey Murdicks on Lake Street but sold it out of the family a few years later.
1980—Francis Murdick opened Fran Murdick's Fudge in Mackinaw City, which he operated with the help of his son, John Murdick, and grandson, Aaron Murdick, until he passed away in 2010.
2008 – John and Aaron Murdick opened their own store, Murdick's Famous Fudge in Mackinaw City. John and Aaron Murdick inherited the trademarked name in 2017 from Gary and Jeryl Murdick (now retired from the store in Charlevoix). John and Aaron Murdick still own and operate this store today.
Today, John and Aaron Murdick can be found in their store in Mackinaw City on any given day making candy using the same original old-fashioned recipes that their ancestors used way back when it all began.  Tourists flock to their store to watch the unique process of making their fudge the way it has been done for well over a century.
Below you will see Aaron, a master candy maker, demonstrating the mesmerizing process of making fudge on marble slabs.