Wedding or Party Favors
Make Your Wedding or Event Extra-Special with Murdick's Famous® 
Fudge! 
Our mini boxes of fudge are also perfect for for corporate events, family reunions, birthdays, and showers!  
Allow at least 3 days for shipping, if order is not going to be picked up.  
Please review the following options and call us at least 4 weeks prior to wedding or event date @231-436-4008 to finalize your order.  The average price of printed boxes including fudge is $7.00/box (no tax).  Shipping TBD.  No charge for pick up orders.
We suggest keeping flavors to one or two choices: chocolate or vanilla (however, we leave those options up to you); nuts are usually avoided because of allergies.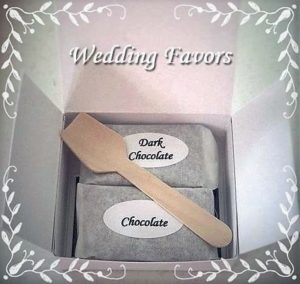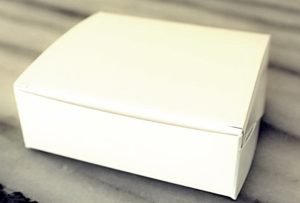 **If you are ordering only the white boxed fudge without designs (some people just order their own stickers and ribbon to match their colors), we only need 2 weeks notice.  Boxes measure:  
(2-1/2) x (2-1/2) x (1-1/4) inches
and hold approximately 1/4 lb. of fudge.
You may wish to just order fudge and make your own trays of fudge for your event. 
Or you can just order fudge from us and fill your own favor boxes.  Favor boxes  can be ordered online at many different websites — click here for examples: favor boxes. 
 Choose a color of box:  
White, Kraft, Brown, Purple, Tangerine, Forest Green, Kelly Green, Raspberry,
Royal Blue, Black, Burgundy, Red, Silver Luster, and Gold Luster
Choose color of printing (click to view): color options
Choose a design for your box from below: