Murdick's Fudge Buckeye Brownie Cookies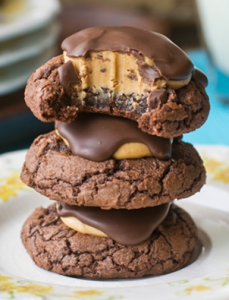 Murdick's Fudge Buckeye Brownie Cookies
Ingredients
1 box fudge brownie mix (19.5 ounce or family size)
¼ cup butter, melted
4 oz. (1/2 block) cream cheese, softened
1 egg
1 slice of Murdick's Peanut Butter Fudge
1 package of Milk Chocolate Chips
Instructions:
1. Heat oven to 350 degrees. In a medium bowl, beat the brownie mix, butter, cream cheese, and egg. The dough will be a little sticky. Scoop the dough onto an ungreased cookie sheet, making about 24 cookies. Smooth the edges of each to form a round cookie.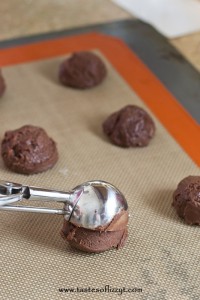 2. Bake for the cookie dough 12 minutes, keeping an eye out to make sure the cookies doesn't over cook or undercook.
3. As soon as the cookies come out of the oven, press a 1 inch square of Murdick's Peanut Butter Fudge lightly into the center of each cookie.
4. Heat the chocolate chips in the microwave for 45 seconds. Then stir until all of the chips are melted. Put a 1/2 tsp of chocolate on top of each cookie so it covers the peanut butter fudge. Let the chocolate set. Store in an airtight container.