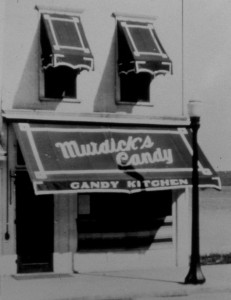 2017 marks our family's 130th anniversary of making Murdick's Famous Fudge.  Although it wasn't "famous" when my Great-grandfather, N. Jerome Murdick, started it on Mackinac Island in 1887; it soon became famous for its rich, smooth, creamy, sublime taste and texture.  What our ancestors started all those years ago has come to be widely imitated… but I have yet to find another fudge that matches ours.  It's not just what goes into it (recipe)… as many have gotten their hands on our recipe.  It is also the methodology that separates  our rich and creamy concoction from all the posuers.  I will not divulge our family's method here.. even though many have been around us to pick it up.  They just haven't mastered the art as we Murdicks have. 
I titled this blog "My Golden Anniversary"… And indeed 2017 marks my 50th year of making candy the way it has been made in my family for six generations.  I say six because my GREAT-GREAT Grandfather, Henry F. Murdick, was listed as a "confectioner and boat builder" in the 1901 "Michigan Gazetteer."  This makes me the 5th generation and my son, Aaron Murdick, is now the 6th generation. 
I was fourteen years-old in the summer of 1967…  the "Summer of Love" as it has been coined in pop culture.  But life in my little hometown of "Charlevoix-the Beautiful" (Michigan) went about its usual business of being a quaint resort town with our great harbor (Round Lake) and yacht basin.  My Grandfather's candy store, "Murdick's Famous Fudge," was located right in the middle of town on the corner overlooking our green space with its band shell and shuffle boards.  It also overlooked the harbor and the boats that docked there.  I can remember folks coming up to our shop from their boats and telling us that the wonderful aroma of our fudge being cooked in our copper kettles awoke them from their slumber on their vessels. 
I learned how to weigh up and cook the batches of fudge and other candies that we made… peanut brittle, cashew brittle, salt water taffy, pecan rolls (or logs), divinity, caramels and chews, and many other candies.  We made 30 lb. batches of fudge that required 4 quarts of cream.  Ike Boss, (whose grandfather, John Boss, owned the local creamery), would wheel the cases of cream right into our kitchen and load them into our refrigerator.  One morning Ike came in as I was cutting the pure chocolate liquor to be used that day in the fudge…. (In those days, the chocolate came in 10 lb. slabs and had to be shaved/cut into smaller chunks.)  As Ike strolled by the slab I was working at, he casually reached out and grabbed a chunk of the pure chocolate and tossed it into his mouth before I could say anything.  Well (almost) predictably, he SPIT OUT the chunk of chocolate and shouted "What the heck is that?"  I couldn't help but laugh as I told him it was pure chocolate with absolutely NO SUGAR in it.  When ever Ike came around thereafter, I would offer him a piece of candy and he had to look it over and smell it before finally asking me if it was "pure" or not…  Sadly, Ike passed a few years ago.
By my third summer in the candy kitchen (1969), I was learning how to do all the slab work in making our fudge.  My dad's Uncle Gould (my Great-uncle) was a master candy maker and a curmudgeon… once watched me as I worked a batch of fudge on the slab.  To say I was quite self-conscious as well as completely nervous was an understatement.  But as I made my finishing pass around my loaf of fudge with my small creamer blade, Uncle Gould remarked "You do that better than I ever did!"  Although I'm pretty sure he was just being gracious to me… that it came from him meant the world to me.  He had a hard edge to him but he also had a twinkle in his eye and was always patient with us kids when we were young. 
Looking back on my life as a candy maker… I counted up the many places I have made fudge.  There are many because we tried franchising our fudge back in the 1970's.  Although these stores didn't last (for many reasons),  it allowed me to go around the country teaching folks how to make our fudge.  I've made candy in two kitchens in Charlevoix, MI,  two in Gaylord, MI, two in Petoskey, MI, three in Mackinaw City, MI, one in Pentwater, MI, one in Frankenmuth, MI, one in Grand Rapids, MI, one in Shuss Mtn./Shanty Creek, MI, two in Atlantic City, NJ, one in Hollywood, FL, one in Santa Barbara, CA, one in Atlanta, GA, and one in Solvang, CA… that's 19 different sites.  I had the opportunity to go to Hawaii to teach some folks our method but they were only interested in acquiring the recipes without becoming a Murdick's franchise, so I declined… an all expenses paid plus salary to go to Hawaii.  But I was a loyal employee of our company… I've always lamented that I passed on it but honor is everything.
As of today, the only family-owned Murdick's Fudge stores are in Mackinaw City (Murdick's Famous Fudge which is mine and my son's), my sister and her husband, Leon Perron,  own and operate "Celeste Murdick's Fudge" in Charlevoix, MI, "Doug Murdick's Fudge" (my dad's first cousin) in Traverse City, MI, and "Murdick's Fudge of Frankenmuth," owned by my sister, Karen Ann Murdick.  There are some stores using our name yet but are not owned by my family.  The Tradename, "Murdick's Famous Fudge," is still owned by our family and has been since 1923. 
I've been blessed to be able to do two things I have loved… teaching and candy making.  I taught History as a middle school Social Studies teacher and I have also taught many young people to make candy.  "Do what you love..love what you do… and you will never work a day in your life" it has been said… In my case, I can say this has been true.  I guess it's just in my blood. 
Pax Omnia Pro Bono (Peace and All Things For Good)
John F. Murdick
(5th generation Murdick Candy Maker)